Youth Taekwondo (Ages 11-15)
Why Tiger-Rock?
The main emphasis of the Tiger-Rock Junior Taekwondo program is to provide the instruction, structure, and environment to enhance the development of youth between the ages of 11-15. The specialized program focuses on the needs of this age including a highly energetic, fun, and functional activity. Our R15E system challenges students physically and mentally by focusing not just on the martial, but also the art, of martial arts. Mental and physical control is as important as learning the execution of possibly life saving self-defense skills. Frequent testing and skills competition also help students mature through success and, sometimes, defeat. At this stage, Tiger-Rock Taekwondo is a perfect activity to blend the advantages of art and athletics. Better yet, Tiger-Rock Taekwondo provides participants with an equal opportunity to advance their skills since no one ever "sits the bench".
Equally as important to the staff at Tiger-Rock Martial Arts Alabaster is developing the leaders of tomorrow by giving participants the training to learn self-discipline, focus, leadership and self-control. These elements are essential in creating the skills and motivation needed to experience success in later years and have the perseverance and drive to do well both on and off the mat. We place high value on academics and believe in creating a strong sense of commitment to community through citizenship and service. Tiger-Rock Youth Taekwondo is built on the solid principles of our Martial Arts tenets: Honor, Courtesy, Integrity, Perseverance, Self-Control, Courage, Community, Strength, Humility and Knowledge.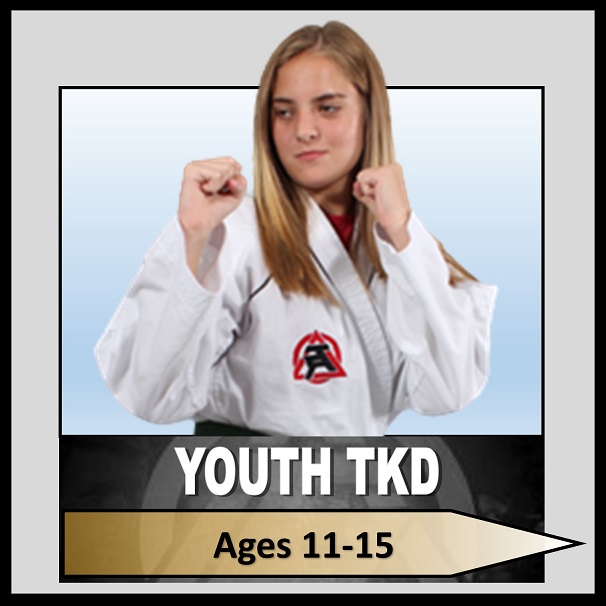 What's the benefit?
Tiger-Rock Taekwondo helps build confidence, self-esteem, and self-defense skills. The Tiger-Rock philosophy and training techniques teach students how to successfully adapt and react to various social environments including the unexpected ones. In fact, the University of West Florida Education Department validated through research that our Taekwondo training enhances social and emotional intelligence. In addition to enhancing social skills, Tiger-Rock Taekwondo for youth teaches children how to properly protect themselves from threatening situations such as schoolyard bullying. Our program also addresses safety behaviors when confronted by a stranger.
It is well documented, and an area of growing concern, that today's sedentary lifestyle habits are leading to childhood obesity. The curriculum and structure of our class ensures that the level of physical activity provides children with the essential ingredients to develop strength, coordination, and agility. It also teaches individuals how to live a healthy life, including the importance of participating in daily exercise and making appropriate nutrition decisions.
Certified Instruction
You can be assured that your youth are receiving the highest quality of instruction. Tiger-Rock Martial Art Instructors are required to be certified and earn continuing education credits to keep up-to-date with the latest policies and teaching methods, ensuring safety and enhanced learning. Tiger-Rock Martial Arts International recommends that all Instructors in the academy maintain a current CPR and First Aid certification. Tiger-Rock Martial Arts also require academy owners to conduct background checks on all annually-qualified Instructors and academy workers who are 18 years old or older in their academies. Academies place a high priority on protecting the safety of members.