Women's Self-Defense (Ages 12 & Up)
Why Tiger-Rock?
The main emphasis of the Tiger-Rock Female Self-Defense program is to provide instruction to enhance focus on awareness, avoidance and escape from dangerous situations. This specialized program is focused on the needs of women, with or without martial arts experience, to learn how to better protect themselves before and during a hostile incident. Tiger-Rock Martial Arts instructors will provide a safe but effective hands on experience where participants will learn a variety of techniques, demonstrate these techniques, and then safely practice them to ingrain the appropriate actions to overcome the situation. Unlike most self-defense systems that rely heavily on strength, speed, and coordination, the strategies learned in our program employ leverage, technique, and timing so that anyone, regardless of age or athletic ability, can make them work against larger opponents.
Personal Protection Seminars are available to individuals or groups. These one hour seminars may be conducted at our facility or at your location. We welcome the opportunity to give back to the community by teaching valuable personal protection skills that may change a life. Seminars can be adapted to fit your particular group. We conduct seminars for teachers, girl scout groups, graduating high school seniors, professional womens' organizations, businesses, and religious groups to name just a few. We are also glad to perform demonstrations at your event. Just contact Parrish Spates today at 205-624-4418.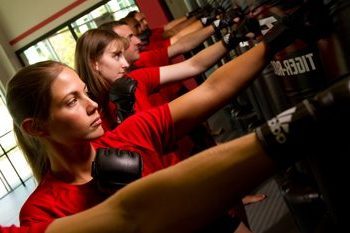 Certified Instruction
You can be assured that you are receiving the highest quality of instruction. Tiger-Rock Martial Art Instructors are required to be certified and earn continuing education credits to keep up-to-date with the latest policies and teaching methods, ensuring safety and enhanced learning. Tiger-Rock Martial Arts International recommends that all Instructors in the academy maintain a current CPR and First Aid certification. Tiger-Rock Martial Arts also require academy owners to conduct background checks on all annually-qualified Instructors and academy workers who are 18 years old or older in their academies. Academies place a high priority on protecting the safety of participants.